Katie Wiles
Skal! Exploring the best beers of Iceland
Added: Saturday, November 11th 2017
By Katie Wiles, www.wilesaboutbeer.com 
Iceland is a small, sparsely-populated volcanic island close to the Arctic Circle. At this time of year, the temperature plunges to freezing and the nights can be long. Yet, despite the harsh conditions, an increasing number of people are making a pilgrimage to view its stunning unspoiled landscape and catch a glimpse of the elusive Northern Lights. With fantastic geo-thermal activity ranging from mud pools, volcanoes and thermal baths to views of mountains, glaciers and black sand beaches, Iceland is truly an adventure-junkie's dream holiday destination.
But for the adventurous souls who like to round off an action-packed day with a good brew, the beer scene can be as hard to navigate as anything else in Iceland.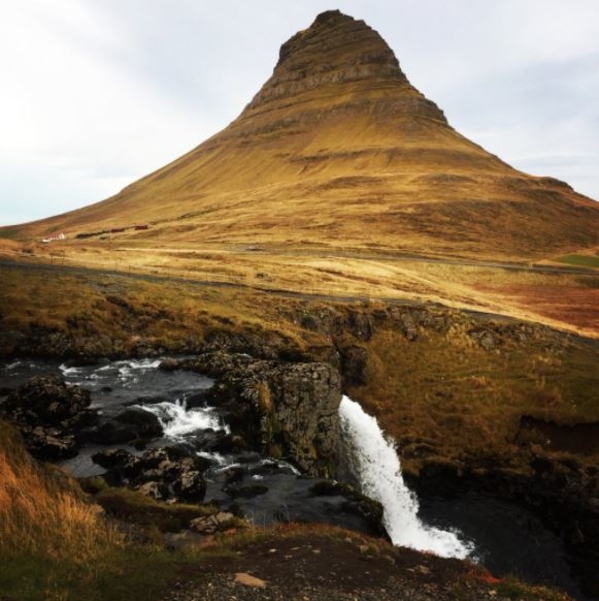 You can't just buy beer anywhere
Alcohol in general is regarded with more suspicion than delight in Iceland, as in many Scandinavian countries. Back in 1915 all alcohol was banned by referendum in Iceland and while spirits were reinstated in 1935, any beer with an alcohol content over 2.25% ABV remained illegal until March 1989.
To buy beer you need to visit a state-run liquor store called a Vínbúðin. Lingering alcohol neuroses on the political front means these shops are deliberately few and far between, have very restrictive opening hours and are not permitted to run special offers. Any beer that you find in a supermarket will be under a 2.25% ABV, so it's worth seeking out a proper Vínbúðin for your evening brew.
Be ready to pay through the nose
If you're thinking about travelling to Iceland you've probably already been warned that it is a very expensive country – and beer is no exception. A half litre (just short of a pint) of standard lager such as Viking or Gull at a bar in downtown Reykjavik will set you back about 1,200 ISK (around £8.63). One 330ml bottle of Ölvisholt Lava bought at a Vínbúðin will set you back about 890 ISK (around £6.40). This is thanks to astronomical taxes on alcohol fueled by prohibitionist attitudes towards drinking.
The best way to save money is stock up on some beer at the arrival Duty Free Store at Keflavik Airport or make use of the happy hour specials at local bars, which can bring the price of a pint down closer to London prices.
Attitudes towards drinking are different
It's pretty evident that Iceland's relationship with alcohol is nowhere near harmonious. Many Icelanders will consider it perfectly acceptable to party all night on the weekends yet consider anyone drinking anything at all the rest of the week to be an alcoholic. In fact, for most of the 20th century it was unpatriotic – never mind illegal – to drink beer. When full prohibition became law 100 years ago Iceland was engaged in a struggle for independence from Denmark, and Icelanders strongly associated beer with Danish lifestyle. As a result, beer was "not the patriotic drink of choice". Prohibition was considered quite progressive and beer was never "what the doctor ordered" – a far cry from the pub culture in Britain.
Local Icelander Gudny Olafsdottir explains that beer still is not something that people will drink on a work night. She says "there isn't the same kind of pub culture there is in the UK. On Friday and Saturdays people will go out late, after drinking at home due to the price. That being said, 'happy hour' is very much a thing in Reykjavik and people here very much take advantage of it!" 
Thankfully, there are some good new local brewers
Despite the odds stacked against them, a couple of fantastic brewers have managed to emerge onto Iceland's incredibly young beer scene. While you can get a huge range of international beers in the Vínbúðin and bars, it's worth seeking out the small list of local brewers and giving them a taste. Just remember to say "skal!" (cheers!) when you do.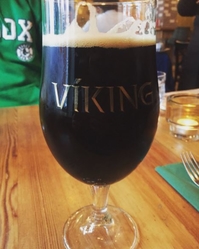 Viking Ölgerd
Viking Brewery is based in the north coast fishing fleet port of Akureyri, and is one of the most remote breweries in Europe. They produce several beers under the Einstök and Viking brand – many of which can be found in the UK as well. Top picks include:
Einstök Icelandic Toasted Porter, 6% ABV. With clear notes of expresso and dark chocolate, this porter is dark and rich, robust and smooth.
Einstök Icelandic White Ale, 5.2% ABV. Brewed in Belgian tradition, this white ale offers flavours of the classic witbier, including orange and coriander. An incredibly refreshing drink.
Einstök Icelandic Wee Heavy, 8% ABV. A strong scotch ale brewed with handpicked angelica and birch-smoked Icelandic barley.
Viking Stout, 5.8% ABV. This stout has a smoky espresso bean aroma, reminiscent of sitting in front of a fireplace in a warm pub. 
Viking Pils Organic, 5% ABV. This beer has a nice balance of distinctive floral hoppiness and medium bitterness, pioneering local organic beers in Iceland.
Viking Yule Bock, 6.2% ABV. A powerful red beer brewed in the style of Bock beers, the flavour is rich with smooth sweetness and a dash of vanilla to enhance the aftertaste.
Ölvisholt Brewery
Ölvisholt is a microbrewery located near Selfoss in south Iceland. It was founded in 2007 by two neighbouring farmers with a passion for beer, who re-purposed an old barn to house their small brewery. Top picks include:
Freyja, Witbier, 4.5% ABV. Freyja is fresh, unfiltered, cloudy and citrussy as most Belgian style witbiers. Fruity with spices in background.
Skaði, Farmhouse Ale, 7.5% ABV. A dry beer with malt and citrus flavours, Skaði has a spicy aroma with characteristics of wine.
Lava, Smoked Imperial Stout, 9.4% ABV. A full-bodied pitch-black beer with a thick brown head, Lava was named the best Imperial Smoked Beer of the year in the US Open Beer Championships. It is sweet with chocolate and roasted malt in the flavour.
Borg Brugghus
Borg Brugghus brewery is a progressive craft brewery found in 2010 whose principal aim is to incorporate Icelandic cultural traits and local ingredients to its beers and pair with food. Top picks include:
NR. 13 Myrkvi, 6% ABV. This is an unfiltered full-bodied porter with a dark twist. It is seasoned with coffee and specially roasted by Reykavik Roasters, boasting a lot of depth.
NR 19 Garun, 11.5% ABV. Garun has an aura of intense richness and a haunting aroma with heady notes of chocolate, licorice and coffee.