Feature
In Cumbria, two breweries, two visions
Added: Sunday, May 7th 2017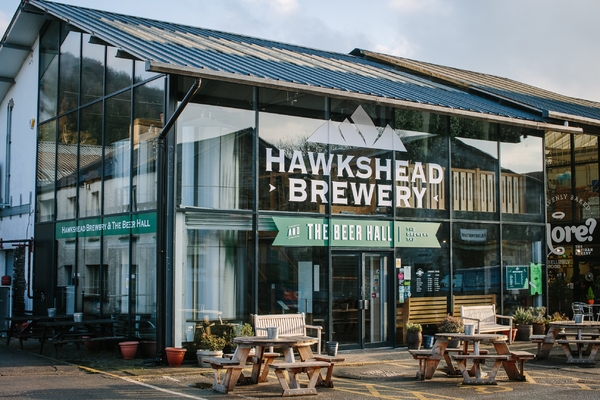 Two breweries in Cumbria are near neighbours, enjoy considerable success in stunning Lake District locations yet have vastly different visions of their future plans and directions.
Cumbrian Legendary Ales alongside Esthwaite Water has one of the most popular beers in the North-west with the award-winning Loweswater Gold. But owner Roger Humphreys is content to stay local. He will concentrate on selling Gold and his other beers in Cumbria and Lancashire and has no plans to expand the size of the brewery.
In sharp distinction, Alex Brodie, founder of Hawkshead Brewery at Staveley, has signed a deal with a large drinks company that will see the brewery triple its capacity, with bottled versions of his beers sold around the world.
Halewood International is the biggest independent drinks group in Britain. Based in Huyton on Merseyside, it has an annual turnover of £270 million, and handles such brands as Crabbies, Lambrini and Red Square Vodka.
It plans a major seven figure investment at Hawkshead that will enable a new 40-barrel brewhouse to be installed, producing two brews a day and 400 barrels a weeks.
"We'll be a bigger small brewery," Alex says.
Roger Humphreys has a different vision at Cumbrian Legendary, based in a former farm house alongside a tranquil lake that's home to ospreys. He began brewing on a tiny plant at his pub, the Kirkstile Inn, before taking over the Esthwaite brewery that first opened in 2003. He has a staff of seven and they are brewing to a capacity of 60 to 70 barrels a week.
"We have a waiting list of customers but we don't want to expand," Roger says. "We have a lovely location and we like being special."
He describes Loweswater Gold (4.3%) as a regional beer and says it's the biggest-selling ale in the area after Jennings Bitter, brewed by the major regional in Cockermouth that's owned by Marston's. Loweswater won the Golden Ale award in the 2011 Champion Beer of Britain competition staged by CAMRA but that success didn't tempt Roger Humphreys to "do a Deuchars" and turn it into a national brand. It's firmly rooted in Cumbria where one pub, the Tower Bank Arms at Near Sawrey – famous for its Beatrix Potter connections – sells more Gold than all its other beers put together.
And Roger(right in picture))and his team, lead by head brewer Ian Thomson (left) and sales manager Rachel Muir, don't neglect their other beers. They include the popular Esthwaite Bitter (3.8%) and Langdale (4%) along with Grasmoor Dark Ale (4.3%) and the hoppy/fruity American Invasion (5%).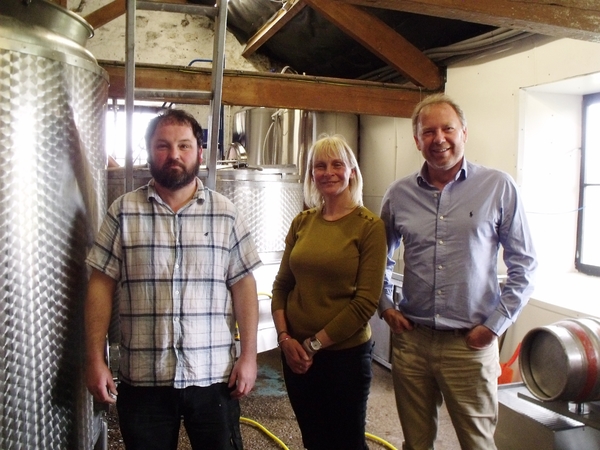 There's a recent addition to the range: Vanilla Oatmeal Stout (4.8%), which has vanilla pods added in the conditioning tank. The beer has a roast and creamy malt character, with bitter hops, oatmeal and powerful hints of vanilla.
Brewing water flows down from the Old Man of Coniston and is very soft: Ian Thomson adds salts for his bitters and pale ales. For Loweswater Gold he balances pale malt with German Brewers Gold hops and a "secret blend" of other hops. The beer has a fine balance of honeyed malt and bitter/fruity hops with a long bittersweet finish.
Roger Humphreys and his team are passionate believers in well-balanced beers, not American-style hop blasters. As 90% of Cumbrian's production comes in cask-conditioned form, they feel it's vital that drinkers can go to the pub for two or three pints without having their taste buds assaulted by exaggerated hop bitterness.
The only keg beer is a lager produced for just two pubs. The rest of the production is in bottles that are sold to pubs, restaurants and independent stores. Roger won't deal with supermarkets as he feels the discounts demanded mean profit margins are squeezed.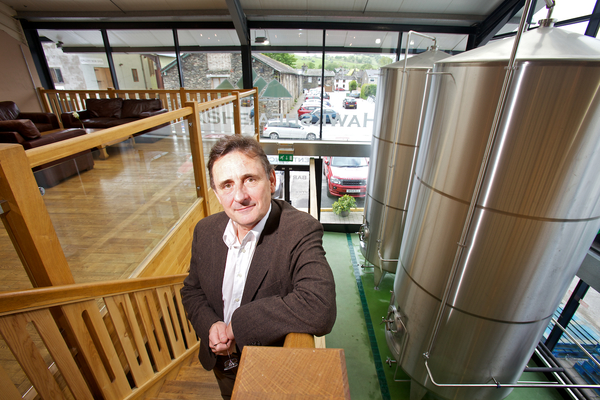 Over at Staveley, it's a different picture. Alex Brodie (above) will see his packaged beers sold to stores of all sizes and in many countries as Halewood has interests in Europe, China, South Africa and the United States. But don't accuse Alex of selling out. He's not a pushover as a result of his first career in the hard-knocks world of journalism. He will stay in charge of brewing and will control production of draught beers, 70% of which is in cask form. Canning and bottling will be handled by Halewood on Merseyside.
As a young reporter on the Birmingham Evening Mail, Alex came across the beers from the Donnington Brewery near Stow-on-the-Wold. "I was entranced," he says and became a beer lover and a CAMRA member. He worked as a "stringer" -- freelancer -- for the Daily Telegraph on dangerous assignments in Latin America and then became the BBC's Middle East correspondent and reported the Iran-Iraq conflict. When he tired of dodging bullets, he and his wife Anne moved with their family to the Lake District where he launched Hawkshead in a barn at the head of Esthwaite Water in 2002.
He soon outgrew the barn and moved to Staveley in 2006. The space there has enabled production to be increased several times along with the development of the Beer Hall. This is a vast tap room that extends over two floors where drinkers can enjoy the big range of beers, eat tapas and view the brewery through glass walls. 
The deal with Halewood was the result of Alex and Anne having long discussions about the future of the brewery. "The regional brewers are in decline," Alex says. "There's a big gap in the market. But we've never had any money – we've reinvested all the income. With Halewood, we have money behind us and we have a route to market."
Hawkshead employs 26 people and Alex says the key team, including Anne Jones, head of sales, and head brewer Matt Clarke, have been with the brewery for 10 years or more. "They're family – they've also invested in the brewery and they're excited to see where we can go," Alex adds.
The beer range is extensive and with a wide choice. But in this age of ever-growing beer styles and exuberant recipes, it's worth noting that Hawkshead's most popular beer is the cask Windermere Pale with a modest strength of 3.5%. In sharp distinction, the recent addition of a 7% IPA, bursting with hop flavours, shows that younger drinkers are not being ignored. Not to be outdone by Cumbrian Legendary, Hawkshead also has a golden ale, Lakeland Gold (4.4%), that has picked up several awards.
Matt Clarke, from New Zealand, has met with enormous success with his NZPA (6%), with ripe and fruity notes from hops from his home country. Matt, along with Anne Jones, is now a director of the new company and Alex stresses that he and Matt have no intention of abandoning draught beer, where the ratio is 70% cask and 15% keg, with a further 15% taken up by can and bottle.
Alex has no time for the endless debate about the merits of cask and modern keg beer. "Stop wasting time defining it – enjoy it! Keg can go where cask can't go. Modern keg beer is not over-carbonated and not filtered. It's all about flavour."
He's now 67 and he has a one-year contract with Halewood to continue as managing director. "In a year's time I will have to decide whether to stay or move on. I want to see where the baby will go."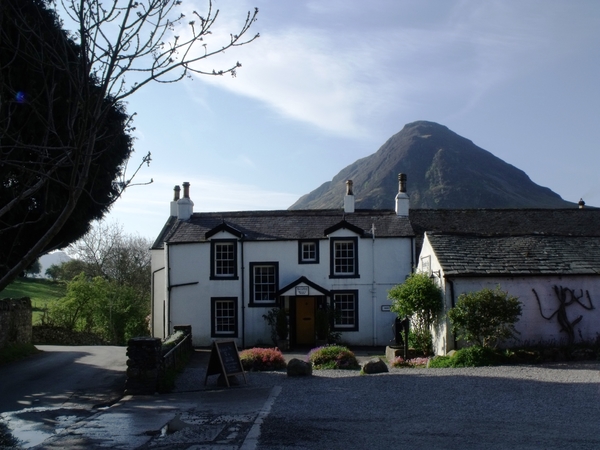 At Cumbrian Legendary, Roger Humphreys may not be expanding the brewery but he's building his small pub estate. The welcoming, 400-year-old Kirkstile Inn (above), with ancient beams and flagstones, nestling at the foot of Melbreak, has just been named one of the Top 20 country pubs by the Times.
Roger has added to the inn the remarkable Dockray Hall in Penrith. It makes Kirkstile seem positively modern as Dockray dates from the 14th century. It started life as a watch tower for the local castle and became the residence of Richard Duke of Gloucester, later Richard III, in the 15th century.
The building fell into disuse but Roger Humphreys and his manager David Gordon are busily restoring the hall, where the ground floor is already open for business, serving food and drink. The upper floors, including Richard's former bedroom, will be used for additional dining and for meetings and entertainment.
The hall is a feast not only for diners and drinkers but also for those with a love of history. Richard III's white boar symbol is enshrined in the structure along with wood panels, beams, standing timbers, flagstones, fires and inglenooks, plus a spiral staircase that once led to the top of the watch tower.
Cumbrian Legendary may not be extending the boundaries where beer sales are concerned, but it's not standing still and is embedding its roots in the rich history and traditions of a region of spectacular beauty.